Monkeys for Nothin' and The Chimps for Free – New album from Reel Big Fish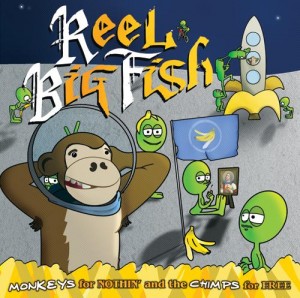 They're back and as good as ever! One of my favorite ska bands just released another album hilariously titled Monkeys for Nothin' and The Chimps for Free. Yes, I am talking about Reel Big Fish. With song titles on this album like Another F.U. Song, Party Down, and Everybody's Drunk I knew this was going to be a good album. And after listening to it for a week solid now, I can safely say this album rocks!
It's hard trying to keep up with all the bands that I listen to. It seems lately once or twice a month one of my favorite bands releases a new album. This new Reel Big Fish album completely slipped past my radar until Jenny (wife) told me about it. I was like, "no way!" And she was like, "don't question me ass." Heh, just kidding. Though, it's a good thing she told me about it because we're going to a ska show here in a week or two to see Reel Big Fish among other bands.
I hate going to a show and not knowing the songs of my favorite bands. But now that I've been listening to this album for awhile I can go to the show knowing their songs and ready to skank.
Overall the album is really good. It's the same band that I've liked since their Sell Out days. Their music is all happy and upbeat, because, well it's ska, but the lyrics are downright depressing, disturbing, and pessimistic. Ok, so I might be exaggerating about the lyrics a little, but these guys sure do love to say fuck, and I love listening to them say it.
This album has a different range of songs like most of their albums do. There are the faster, more negative ones, the slower, reggae ones, and just the silly ska ones. Plus they do an awesome cover of Genesis's Another Day In Paradise.
I would recommend Monkeys for Nothin' and The Chimps for Free to any Reel Big Fish fan and any ska fan in general. Compared to their previous albums, this one is one of the better. Finally, check out their new music video from one of their new songs, Party Down: