Band recommendation – The Suicide Machines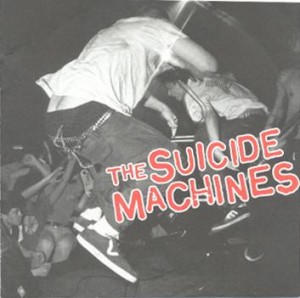 The Suicide Machines is one of the best skacore bands ever. I remember when I first heard The Suicide Machines. It was the mid 90's and I was about 14 or 15 years old. I was hanging out at my friends house and he showed me this new CD he got called Destruction by Definition. It was The Suicide Machine's first full-length CD. It was one of the best CD's I've ever heard, and it was my first experience with ska-punk or skacore music. Before that I was into a lot of ska, like Less Than Jake or Mustard Plug, and into a lot of punk like Pennywise or Strung-Out, but I've never really heard a combination of the two. At least not the way that The Suicide Machines did it.
I was instantly hooked. The fast beats, the hardcore singing, and of course the ska guitar riffs. The Suicide Machines pulled it together perfectly. Their choruses were melodic and memorable. Though some songs were just punk while others were ska, the overall genre that the band and most of their songs fell into was this new, dreamy music.
I listened to Destruction by Definition for a long time and learned all the songs – lyrics and guitar tabs – until 1998 when they released their next CD titled, Battle Hymns. In this CD the band kept their awesome skacore edge, but now seemed to take a political turn in their lyrics. This was perfect for me. I listened to a lot of political bands at the time like Pennywise, NOFX, and Propagandhi. I love music that has meaningful lyrics, and now The Suicide Machines fell into that category. It seems this band could not go wrong.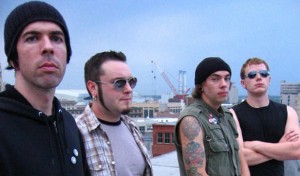 Boy was I wrong. I don't know what the hell happened but in 2000 The Suicide Machines released a horrible self-title album. This CD just didn't sound like them at all. It wasn't skacore at all. Hell, it wasn't even ska or punk. It was more like an alternative / emo type monster. I did not like it. My stomach hurts. I'm done talking about it.
Because of that bad episode I completely avoided their next CD titled Steal this Record. I never even listened to it, and just kind of forgot about it as time went on. I did eventually get the CD, but never really liked it. It was better than their self-titled one, but still a little too light and melodic for me.
I kept listening to their older CD's until 2003 when they released A Match and Some Gasoline. The Suicide Machines were back! This CD was back to their old style of fast beats, ska riffs, and hardcore singing/lyrics. Loved the CD, and in 2005 they did it again with their new album called War Profiteering Is Killing Us All. Another great album with plenty of that skacore that I love so much. In the end I consider this latest CD their best, and my favorite thus far.
The Suicide Machines are a great band that first introduced me to the world of ska-punk or skacore. And they keep me loving that musical genre today. But The Suicide Machines are not the only ones out there. Check out other great skacore bands like Against All Authority, Slapstick, and even some Mad Caddies. If you're a fan of ska, or a fan of punk, then odds are you'll love skacore. And I still haven't seen The Suicide Machines in concert yet. Damn.