Band recommendation – Bigwig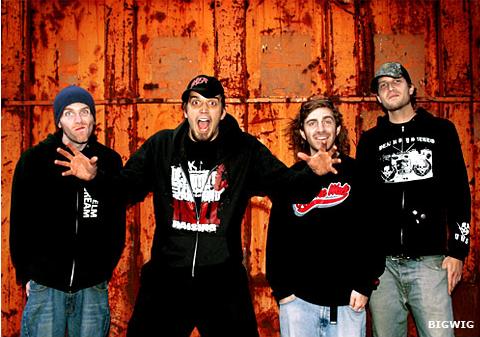 Bigwig is one of my favorite punk bands. I also believe they are one of the most under rated bands out there. Most have never heard of them, which is normal, but a lot of people in the punk genre haven't either! Blasphemy! They're one of my favorite punk bands out there. Sure they've had their ups and downs and while their newest CD is not my favorite, I still think they're one of the best punk bands around.
Bigwig has four full length CDs out there currently starting with Unmerry Melodies, Stay Asleep, An Invitation to Tragedy, and Reclamation being their latest. My favorite album is An Invitation to Tragedy, followed by Reclamation and Stay Asleep, then Unmerry Melodies. I first heard Bigwig back when I was in High School. I don't remember exactly how I heard them, but I think it was on a compilation CD. They just released their first album Unmerry Melodies and boy was that album great.
Bigwig is the exact type of punk band that I like. They're on the verge of being hardcore, great powerful vocals, screaming guitar riffs, and fast, fast drum beats. It's just one of those bands that gets you pumped up when ever you listen to them. They have to be played loud and seen in concert. Only then will you appreciate the band that is Bigwig.
1. un Merry Melodies
Moving back to their first CD, there were several extremely great songs that I still love to listen to this day. The first song off the CD titled Old Lady, has an hilarious lyrical ending, while their cover of the Cheers theme song kicks ass, and finally the last song titled The Girl in the Green Jacket is very memorable and fun.
2. Stay Asleep
A few years later they released their second CD titled Stay Asleep. This CD completely blew away the previous one. With this CD the band definitely matured more. This CD was a little faster, serious, and best of all more hardcore. I'm mainly talking about the songs titled Falling Down and Numbers. Both songs are my favorite on this CD and house fast beats, great vocals, and of course great guitar lines. But the band still kept some of their fun songs as well with lighter lyrics and beats.
3. An Invitation to Tragedy
Next came my favorite CD of theirs to date titled, An Invitation to Tragedy. Again, like their previous CD, the band seemed to mature more with this one. The album was more serious, tight, and hardcore. There were a couple of songs that were still light, but the ratio between their hardcore and lighter songs was moving in favor of the first. This was perfectly fine by me. I've always liked their more serious songs better. This album also sounds great, recording wise. Their previous albums (and newest one) recording was….not so good. But with this album a lot of time was spent in the recording studio on the final mixing. Some of my favorite songs include Sink or Swim, Mr. Asshole, and Appreciation.
4. Reclamation
And finally, Bigwig's newest CD titled Reclamation, was released last year. I do like this CD and have been listening to it for over a year now. But I really don't like it as much as their last CD. I don't know why. There were less songs on the CD, the recording was kind of crumby, and a lot of the songs just weren't as memorable as before. There are a few songs on this CD that do kick ass, and the overall CD is good, but it's not my favorite.
Unfortunately, the band doesn't have any music videos out there, but if you search Video Google or Youtube you'll find lots of live performances by Bigwig. But check out their songs above and get their music! Why? Because Bigwig kicks ass! That's why.