The Adam Carolla Show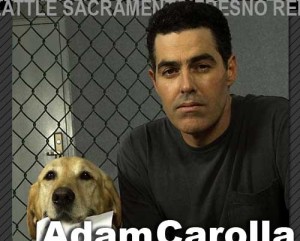 Usually, when ever I'm driving in my car or sitting at work, I like to listen to my music. I like to blast it in the car and have it help pass time during those long work days. As of a few months ago, I've never really listened to the radio or talk radio for that matter. The only thing I ever really listened to on the radio was baseball games. Other than that, there was never really anything that entertaining or enjoyable that would make me want to listen to the radio over my CDs. Well, that changed when Phoenix's newest talk radio station came in, featuring The Adam Carolla Show.
I love this talk program. For those who don't know, Adam Carolla was the co-host of MTV's Loveline, and more recently the co-host of Comedy Central's The Man Show. Other than those two shows, I didn't know much about Adam or what he'd bring to the radio world, but let me tell you, his talk show it awesome. Why? Well, mainly because he has the same exact views on virtually everything that I do. Plus, he's damn funny.
The show also has two co-hosts – Teresa Strasser from a home improvement show called While You Were Out and Danny Bonaduce from The Partridge Family and more recently Breaking Bonaduce. It really is a great mix between them three. Adam is the most outspoken one with his hilarious tangents that he runs off into sometimes. Danny with his great life stories about drugs, alcohol, women, and all other life threatening things. And Teresa, who is really the glue that holds the show together.
Every morning they have a four hour block that they have to fill. Some of it is covered with interviews while the rest is filled with sketches. Some people they have on their show regularly include David Allen Greer from In Living Color and voice actor Billy West who does countless voices including Ren & Stimpy and Fry, Professor Farnsworth, Zap Branigan, and Dr. Zoidberg from Futurama. I love it when they're on the show because I know I'll be laughing my ass off on the way to work.
But my favorite things about the Adam Carolla Show include some of their sketches. One of my favorites is called What Can't Adam Complain About. In this sketch, callers call in and try to name something that Adam cannot possibly complain about. Some of the items mentioned include photosynthesis, and kids from the Make-A-Wish Foundation. No matter how obscure the subject is, Adam will find a way to complain about it. It's hilarious.
I guess in end I really like this show because it makes me laugh and feel good in the morning – a time where I would normally be tired and depressed about going to work. So I thank The Adam Carolla Show for kick-starting my day, everyday.