AT&T Tilt and Pantech Duo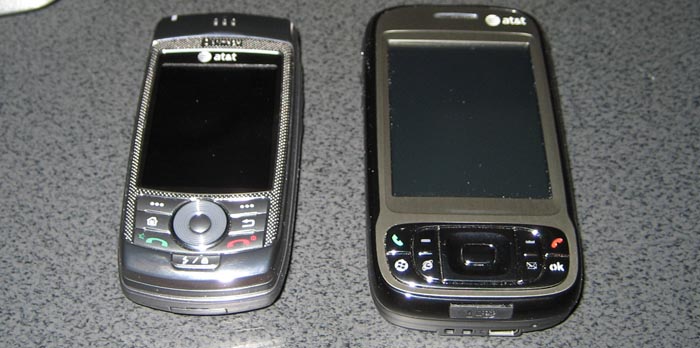 Jenny and I both got new cell phones this weekend. Both of our contracts were up and I wanted to add her onto my account to get a family plan sort of deal. Of course, when resigning you get good discounts on phones and accessories. I knew I wanted the AT&T Tilt and I wanted Jenny to get some type of smartphone. We finally settled on the Pantech Duo for her, and we both love our new phones.
AT&T Tilt
I've been eyeing this phone for a couple months now. My previous phone was the Cingular 2125, which was a smartphone that ran Windows Mobile (WM) 5. The Tilt is my first PDA/Pocket PC and runs WM6. I found out that one of the least things I do with my cell phone is talk on it. Instead I mostly do other things with it, including accessing the Internet, checking e-mail, reading RSS feeds, listening to music, etc. This makes the Tilt a perfect fit for me.
The Tilt is ascetically pleasing with a shiny black exterior. The front face plate is a dark gray/brushed looking metal, while the back plate is almost rubbery to keep the phone from sliding around. The slide out QWERTY keyboard and tilting screen feel very solid and I don't see them wearing out or getting loose anytime soon. Overall, the case feels very solid and well put together.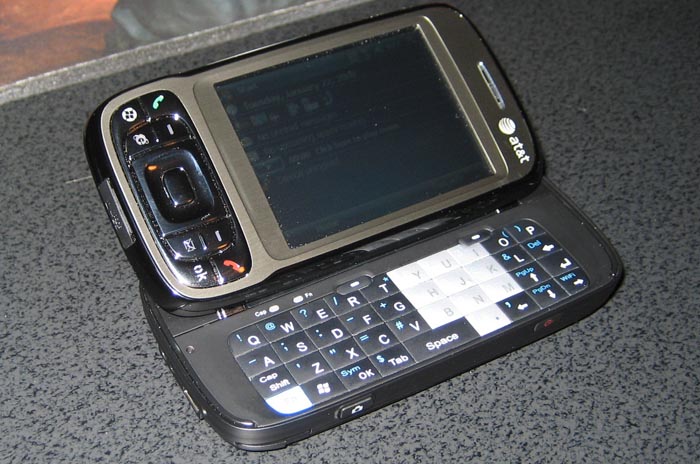 Feature wise, the phone comes with all your standard WM programs. Unfortunately, the phone also comes with a bunch of crap from AT&T. I'm currently in the process of removing all that bloatware, but some of AT&T's programs seem to be rooted deep into the system. Why do companies still do this? In the mean time I'm also updating the phone with GOOD programs, including an RSS feed reader, reg editor, proper video player, etc.
The phone also has built in Wi-Fi and GPS. The Wi-Fi works great and allows me to instantly connect to the Internet and browse around just as quickly as my desktop PC can. As for the GPS, I'm still looking for a decent GPS program, so if anyone knows of any good mobile solutions, let me know. I prefer free, but I'm willing to pay if needs be.
Overall, I'm very happy with this purchase. I've only had the phone for a few days now, but see myself loving it years from now.
Pantech Duo
The Duo is AT&T's newest smartphone. Like I mentioned at the beginning, I wanted Jenny to get a smartphone. She's been messing with my old smartphone ever since I got it. So she was familiar with it, and liked all the things I could do with it. When it came to getting her a new phone, she wanted something that takes calls easily, takes photos, and plays music.
Now virtually every single cell phone does these things, but none of them do it quite as nicely as a WM6 smartphone. Example – we plugged the Duo into the PC, opened Windows Media Center on the PC, and dragged and dropped songs, artists, albums right onto the phone. After which she was able to listen to music on her phone. She also wanted to be able to customize her ring tone with one of her downloaded songs. With WM6 this is a snap.
The phone itself also seems well built. It contains two slide outs. The first slide out is the QWERTY keyboard that allows for quick texting/typing. The second slide out is the number pad, which allows her to make quick calls via speed dial or just punching in the numbers. The phone is also ascetically pleasing and feels very solid.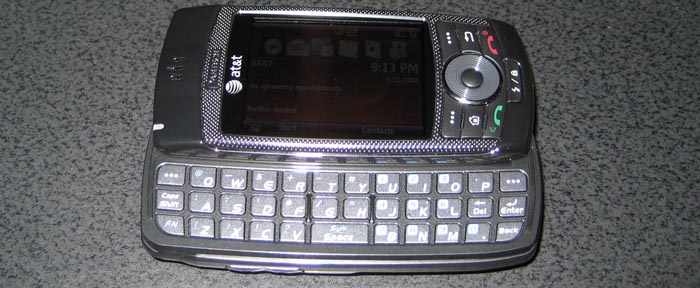 My only complaint with this phone would be the proprietary plug on the bottom. That's right, there's no mini-USB connection on this phone. This kind of sucks because it will not easily allow her to plug her phone into any computer with a standard mini-USB cable. But the phone does recharge through that connection which is good and standard on all WM devices.
Overall, both Jenny and I are very pleased with our purchases. These phones will last us for a long time and with an open platform, they are definitely future proof. I don't see myself ever going back to a non-PDA type phone, and I'm sure Jenny can't see herself ever going back to a non-smartphone.