Career Suicide – New album from A Wilhelm Scream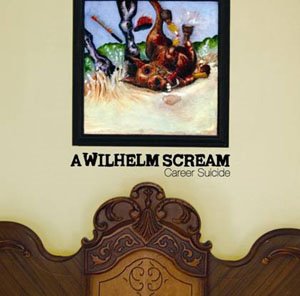 I have a new favorite band. It's a band that I've liked and known about for only a couple years now, though they've been around a bit longer. I first heard this band at a concert. I liked their sound so I bought their CD and loved it. Now two years later, they've released another album. The band is A Wilhelm Scream and the album is Career Suicide.
If you know A Wilhelm Scream, then you know their sound. They put a great amount of importance into their instruments making sure they have just as much impact as their vocals/lyrics do. I love this. Listen to most any of their songs and you'll hear some crazy drums, bass, and dueling guitar solos.
Career suicide is no different expect for one thing. Take their previous albums and sound and speed it up like crazy. If you thought their extremely tight and intricate musical style sounded good before, then you have to hear it sped up. I love the power it brings to you. The way all the instruments and vocals work together and play with each other. Don't expect any rhythm guitars, bass, or drumming to be hiding in the background, providing little to no impact on the song. Every note, beat, chord, and lyric sounds great and none of it is every lost in the background.
Besides the name of the album also being a name of one of their songs (Career Suicide), I think the band may have been saying something else. With this new CD they went in the opposite direction that most other bands seem to go. They didn't puss out and slow down or go emo on us, just to catch the eyes (ears?) of a bigger record label. Instead, they intensified their sound and continued to do what they do best. Pretty much a middle finger response to the status quo. At least that's my interpretation of the new album. Plus the lyrics of that song say the same thing:
Run, motherfucker, run!
Will you jump with me through the fire?
In these dark places evil hosts pad their savings, spent on younger faces.
I kills me to act surprised, so why don't you just say no?
If you're mad at the world, no matter,
as my fake heart concedes to your fake love.

Jump, motherfucker, jump!
Will you burn with me on the pyre?
When the fires have died, you gotta lengthen your stride.
You better run, motherfucker, run.
I've only had this new album for a couple days now, but right now this is my favorite album, and the best album A Wilhelm Scream has produced yet. If you liked their previous albums, hell, if you even sort of enjoyed their previous albums, then get Career Suicide. It's the album I've been waiting for for awhile now, and probably you to.
They also released a new music video from the new album of the song called 5 to 9. Enjoy!