The (all-new) Steam Community
I open up Steam this evening to play some Bioshock and what do I get? A nice helping of updates and Steam restarts that I distressingly have to comply with. I'm used to it; it's quick and painless (usually). But this update told me because I'm running Vista, that I need to run Steam with admin privileges to install the update. OK, that's new. Once the Steam client update downloaded and installed I was treated with a wonderful new feature. The (all-new) Steam Community.
What is the new community. Well, from my short amount of time with it so far, think Xbox Live Gamertag, only more for PC gamers. I had to first setup my SteamID. This ID allows you to choose a user name, location, web sites, avatar, and several other common settings. It also gets you a SteamID URL, which allows people outside of Steam to see your account. It shows how long you've been a Steam member, what games you've been playing, and how long you've been playing them. For example, it shows Bioshock as a game I've been playing for 11.2 hours for the last two weeks. Finally, you also get to choose your favorite game to be displayed.

One other thing I haven't got to mess around with much is the ability to add and join groups in the Steam community. When you join or are in a group you can chat with other members of the group, see what game their playing, and joing their game in progress. Groups can also list announcements and upcoming events for their members. Finally, groups can either be public where anyone can join or private where it's an invite only. Like I said, I haven't had a chance to join any groups yet, but have browsed a few of them.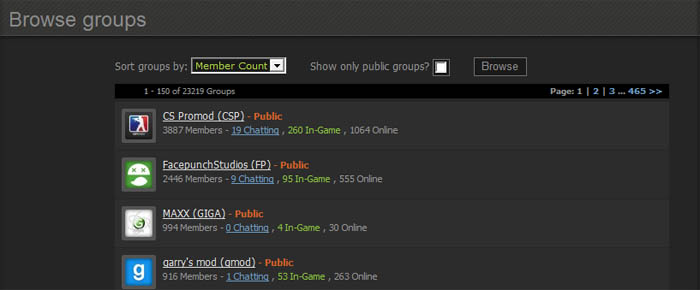 There's also the new overlay feature in the games that you can activate. For instance, while in a game you can press Shift+Tab (default) to bring up the Steam Community overlay. This allows you to adjust your settings, check out your Friends, or view the community. All without having the leave the game. Good job Valve.
New features are on their way as well. Including an avatar library and custom CSS styles you can choose for your SteamID page. Check out my SteamID page here: http://steamcommunity.com/id/chapstick. Or for more info on the all-new Steam Community, check it out in the Steam client under the new Community tab or visit it online here: https://steamcommunity.com. Finally, I need some friends, so if you have Steam and play online then let's hook up and play a few rounds.