Keep It Going – New album from Mad Caddies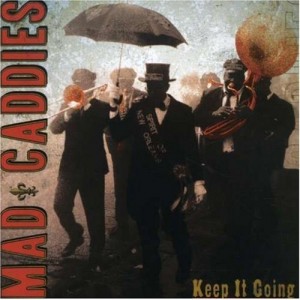 I've been a Mad Caddies fan since their first album Quality Soft Core. That was back in 1997 and since then they've released five full length albums and not one of them has disappointed me. This includes their latest album titled Keep It Going. Now this album was released back in May of this year, but like I stated in my last music review, so many of my favorite bands are releasing new stuff, that it's hard to keep up. But I've now been listening to this album for a good month, and I love it.
Those who know the Mad Caddies know their style – they're ska of course but they've always had different styles in the genre that they played. This includes your standard ska, to a fast/harder ska-punk sound, to a slower reggae sound. No matter what version they played, they always kicked ass at it. With Keep It Going they mostly play the slower reggae sound. Though, there still are a few ska-punk, and plain ska songs on this album.
But this album seems a little more safe than their previous albums. By safe I mean, not as experimental. To me, the horn section the Mad Caddies had always stood out as being one of the best out there. In this album the amazing horn section is still there but not a prominent as before. Same goes with the guitar and drums. There's not enough ukuleles in this album!
A few really good songs on this album include The Dirge and Tired Bones, both of which are more on the ska-punk side. But there are some really good reggae songs including Coyote and Backyard. If you're a fan of the Mad Caddies then you should definitely like this album. Though if you just a fan of the ska genre, then Keep It Going might take some getting used to. The Mad Caddies are one of my favorite ska bands, and with this album they still are.
Check out their label's site Fat Wreck Chords to listen to some of their songs and check out their video of State of Mind below: