Wolfbiker – New album from Evergreen Terrace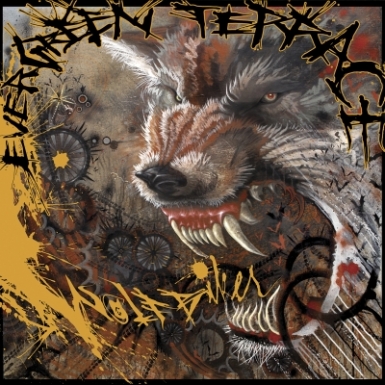 Evergreen Terrace's latest album, Wolfbiker, was released back at the end of 2007. Their previous album was released in 2005, and while I love this band, I hadn't listened to them for several months, thus I missed this album. And I'm sorry to say I didn't get this album sooner because it seriously kicks ass.
Evergreen Terrace is a band that's kind of hard for me to put in a specific music genre. They're definitely metal with some hardcore punk thrown in. I've always loved the hard beats and vocals mixed with the faster tempo'd and more melodic choruses.
Wolfbiker takes the above formula and mixes it perfectly in this album. Virtually every song on this album is a perfect blend of metal and punk. If you liked their previous albums then you'll love this one. It has some great melodic/sing-along choruses that really get the songs stuck in your head, hours after you listened to them.
The drum work is also incredible and definitely shows off the band's medal side. But of course it's mainly the vocals that give the band its defining sound. With three singers we get some amazing ranges. With the main/front singer we get the low roar of the metal genre. With another singer we get the more hardcore punk vocals in the background or echoing the main vocals. And finally, we get the more melodic, sing-along vocals that drive most of the choruses throughout the album.
Overall, I think Wolfbiker is an awesome album and the best one that Evergreen Terrace has released yet. If you're a fan and haven't gotten this yet, then get it! Otherwise, if you're on the fence, then check out their MySpace page to listen to some of their songs, and check out the video below from their latest album.